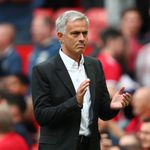 Sky Sports
- Sun Aug 13 7:54 PM
Jose Mourinho says he is pleased after Manchester United "played with confidence" during their 4-0 opening weekend victory against West Ham.
Metro
- Sun Aug 13 7:38 PM
What a perfectionist.
Daily Express
- Sun Aug 13 4:38 PM
GARY NEVILLE
was shocked and saddened when
Javier Hernandez
left Manchester United - he revealed ahead of his return to Old Trafford with West Ham today.
Irish Independent
- Sun Aug 13 11:03 AM
It was a day of unbelievable and genuinely unprecedented action at Stamford Bridge… but also a few unsaid words, if obvious thoughts.
talkSport
- Sat Aug 12 8:42 PM
Mirror
- Sat Aug 12 8:00 PM
Mourinho will be without
Luke Shaw
,
Ashley Young
and Marcos Rojo for the opening game against the Hammers
Daily Express
- Fri Aug 11 4:00 PM
ZLATAN IBRAHIMOVIC has been pictured diving off a yacht while on holiday in France as he continues his recovery from a horror knee injury.
Irish Independent
- Fri Aug 11 1:08 PM
Ireland midfielder
James McCarthy
has been ruled out of Everton's season opener with Stoke on Saturday with a knee injury.
Daily Mail
- Thu Aug 10 2:32 PM
Zlatan Ibrahimovic has shared an update of his recovery from a cruciate knee ligament injury with his followers on Instagram.
Irish Independent
- Wed Aug 9 1:02 AM
Manchester United midfielder
Marouane Fellaini
joined in with the fun after an image of his contorted faced in Tuesday night's UEFA Super Cup match against Real Madrid became a social media hit.